Serving Those Who Have Served: Michael Arabe's VVST Experience
Rebuild Upstate has repaired homes for 126 veterans in its 16-year history. We're grateful to serve those who have served. We are grateful for volunteers like Michael Arabe and the Volunteer Veteran Support Team, who dedicate hours to repairing homes for veterans.

When it comes to supporting veterans, Michael Arabe goes above and beyond. His years as a successful businessman and his rough carpentry skills make him well-suited to lead others in repairing the homes of Upstate veterans through Rebuild Upstate's volunteer Veteran Support Team (VVST). 
Since 2019, Michael and his team of mostly retired volunteers from the Reserve at Lake Keowee have completed 50 home repair projects for veteran homeowners: 35 with Purple Heart Homes Golden Corner Chapter and 15 with Rebuild Upstate.
On why he chooses to serve veterans, Michael simply says: "We are here because of them." 
Michael and his wife Laurie moved to South Carolina in 2015 to the Reserve at Lake Keowee because it provided two things they both wanted in retirement: the lake and golf. Michael had big plans to give back during his retirement, too.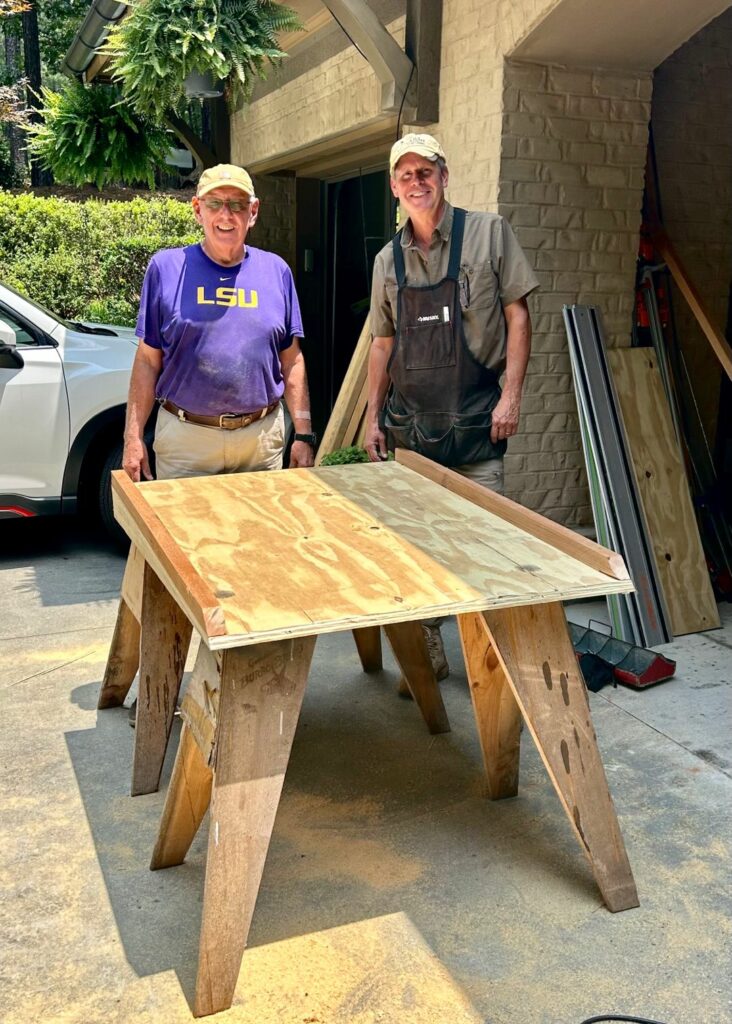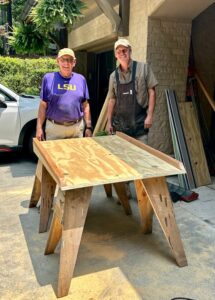 He wanted to volunteer in ways that allowed him to be outside, use his carpentry skills, and "work for the vets." He assisted with the Reserve Foundation's Charity Golf Tournament, which awarded Rebuild Upstate $18,000 in 2018, and was introduced to Purple Heart Homes.
After first volunteering on-site with Purple Heart Homes, Michael began taking on administrative and project management duties, including recruiting more volunteers from the Reserve community. With more than 25 Reserve volunteers working regularly, Michael and his team spend hundreds of hours repairing veteran homes each week. Michael himself puts in at least 20 hours per week.

The "Tunnel Rats" are those volunteers who typically work indoors in cool, dark places like crawlspaces. The "Motley Mess" volunteers are outside building mostly decks and ramps.
Michael and his team volunteer through Rebuild Upstate's VVST in order to also repair the homes of the spouses and widows of veterans, who are often overlooked as having "served." 
Recently, they worked with a woman whose husband had been exposed to Agent Orange during the Vietnam War and had developed Parkinson's Disease as a result. He couldn't get out of the house except by using the front door steps. This was cause for concern in case of emergency, especially with his limited mobility. Michael and the VVST built a small deck and ramp. Michael remembers the veteran saying, "You gave me a whole new way to experience my home." The couple have since stained the ramp and added a lawn chair and side table to enjoy their new porch.
Michael wants more people to join the effort to repair veteran homes. He states:
"Volunteering is not a sacrifice. We get to hang out with our friends, play around with power tools, rib each other mercilessly, and in the end, you wind up with this enormous sense of well-being because of what you did for somebody else."
We are grateful for Michael's volunteer leadership and those who volunteer alongside him through Purple Heart Homes and VVST.
To all who have served, we thank you. 
If you are interested in volunteering with Rebuild Upstate's VVST, email Natalie at [email protected].