Turn Your Passion For Service Into a
Career
If you're looking for a rewarding and impactful career, we might have just the place for you here at Rebuild Upstate. Our tight-knit team works together each day to bring life to our mission and foster strong, sustainable communities.
If you're a self-starter, thrive in a collaborative environment and enjoy solving problems, you're already off to a great start! Explore our open positions below to apply.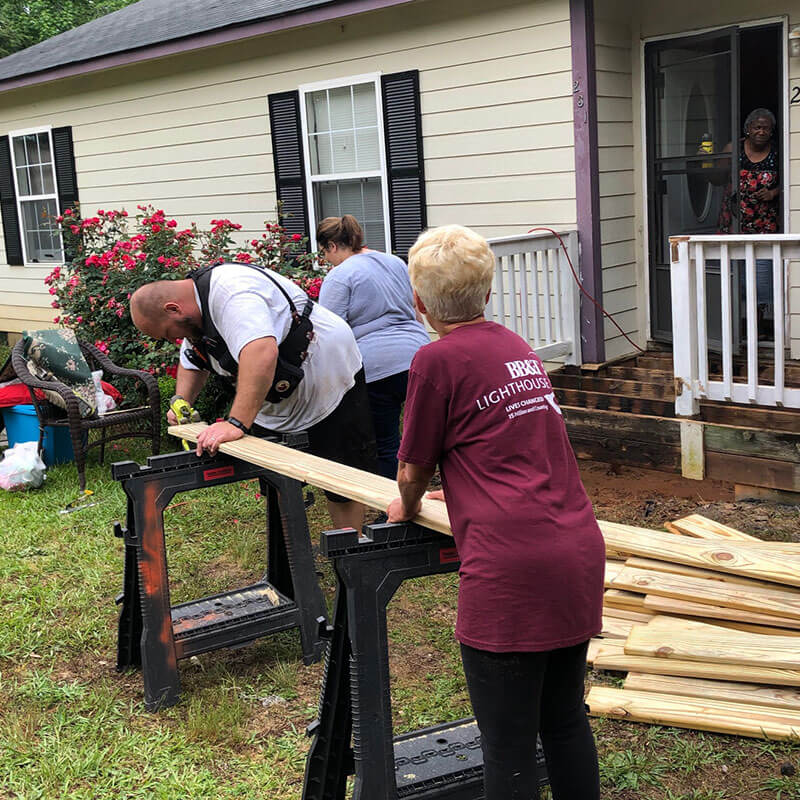 Position Title: Chief Operations Officer (COO)
Status: Full Time Exempt
Location: Greenville, SC
Reports to: President/CEO (Visionary)
Summary of Position 
The Integrator (COO) is accountable for the P&L (Profit & Loss) results, executes the business plan, holds the Leadership Team accountable, and is the steady force in the organization. The Integrator creates organizational clarity, communication, & consistency for the entire team. They drive results and force team resolution, focus, unity, prioritization, and follow-through. This role is the filter for all of the Visionary (CEO)'s ideas, harmoniously integrates and leads the Leadership Team, and helps to remove obstacles and barriers preventing the organization's mission from being accomplished.
Rebuild Upstate operates using the EOS operating system. While it is not a prerequisite for applicants to have worked in this system, it is recommended that applicants become familiar with the Visionary/Integrator relationship and the basics of EOS. (The books "Traction" and "Rocket Fuel" are recommended reading – and required reading within the first 30 days for the candidate who is offered this role.)
Mission
Rebuild Upstate repairs the houses of our low-income neighbors to make homes safer, healthier and more livable. We envision an Upstate where everyone has the opportunity to live a life of dignity in a safe home environment in order to maintain and foster strong, sustainable communities.
POSITION RESPONSIBILITIES
LMA (Lead, Manage, Accountability)
Leads and holds the leadership team accountable for their roles

Supervise and manage all senior-level employees (currently Director of Community Engagement, Director of Operations)

Perform quarterly employee performance evaluations

Conduct weekly 1-on-1 meetings to assess and improve job performance

Implement accountability among employees

Ensure goal adherence for employees

Coach and train senior-level employees to be managers (as required)

Ensure all personnel policies and procedures are followed

Establish and maintain procedures handbook
Major Partner Engagement
Serve as primary point of contact for major funding and operational partners of the organization (to include governmental partners)

Negotiate contracts and MOUs with major partners

Ensure compliance with terms of major partners

Process all paperwork and required documentation (or oversee, as resources allow)

Seek out new major partners to engage

Ensure major partners are kept up-to-date with news and updates
Finance & Administration
Oversee all financial management, legal and compliance, human resources management, and facilities management 

Ensure timely reports are produced for Executive & board review

Manage all F&A-related staff and contractors

Ensure all policies & procedures related to F&A are followed

Responsible for all real property (including vehicles and real assets)

Manage relationship(s) with landlord(s) and facility subcontractors

Ensure necessary safety and liability protocols are in place for all facilities and vehicles
Strategy & Operations
Faithfully executes the strategic plan, achieving or exceeding planned P&L objectives

Integrates all major operating functions of the organization. Ensures everyone is rowing together in the same direction. Models the way, always working toward the greater good of the organization.

Resolves issues effectively – seeing real problems, being comfortable with conflict, calling out the problems, and solving the problems in a practical and healthy manner. Ensures the leadership team is healthy, functional, and cohesive.

Ensures that everyone is truly following, and adhering to, the organization's core processes and operating system with consistency. Demonstrates effective project management skills.

Dependably demonstrates a relentless obsession with values alignment, focus, simplicity, and clarity.

Effectively collaborates with the CEO and stays on the same page. Maintains a high level of mutual respect with the CEO. Realizes the unique contributions and ideas that the CEO has, and possesses an ability to filter and translate those ideas into functional plans for the organization.

Confirms that all key messages are properly and consistently cascaded across the organization. Inherently ensures that everyone is in the know. Verifies that a high level of effective communication exists throughout the organization.
Qualifications
Organizational management experience preferred

Analytical perspective

Ability to confront conflict

Strong verbal and written communication skills

Ability to work and communicate well within a team

Capable of managing multiple projects at once

High school diploma (higher education preferred
Hours & Benefits
Full Time, exempt

Weekend work required at times

Paid holidays & leave time

Flexible schedule

Retirement match
While there is not a position currently available, we continue to accept applications and will hold them for one year. Should a position become available, we will contact qualified applicants on file.
Position Title: Home Repair Program Coordinator
Status: Full-Time (40 hrs/week) or Half-Time (20 hrs/week)
Location: Greenville, SC
Salary: $31,000-$35,000/year, based on experience for full-time
Overall Nature and Scope of Position
Rebuild Upstate is hiring a self-motivated Home Repair Program Coordinator with experience in construction. This position reports to the Director of Operations. The successful candidate will work directly with clients to ensure that they qualify for available funding, will plan all projects to fall within the applicable guidelines and budget, and contribute to completing said projects. He or she will work with the Engagement Team and Director of Operations to ensure that all aspects of work are appropriately planned and staffed with volunteers, and will lead teams of volunteers in completing the work or complete the work themselves, as needed. When applicable, this individual will work with contractors to get bids and complete projects that are not suitable for volunteer labor. We are looking for a dedicated individual who will fit with our collaborative culture. The job requires some weekend hours and flexibility. If you would enjoy working with a small team of professionals to accomplish the mission of Rebuild Upstate, we encourage you to apply.
Mission
Rebuild Upstate repairs the houses of our low-income neighbors to make homes safer, healthier and more livable. We envision an Upstate where everyone has the opportunity to live a life of dignity in a safe home environment in order to maintain and foster strong, sustainable communities.
Project Management & Planning
Inspect clients homes and identify home repair needs
Plan how to complete necessary repairs, including takeoffs and task lists
Oversee purchase and ensure timely delivery of materials and trailers/tools to worksites
Oversee Worksite Safety and Volunteer Orientation
Physical labor is required, including cleaning up work sites, loading materials into truck or trailer, or completing projects as needed
Submit paperwork, as appropriate, to funding agencies
Volunteer Management
Coordinate with the engagement team on all volunteer issues
Facilitate completion of projects by leading groups of volunteers of varying ages and abilities
Documentation & Reporting
Manage homeowner tracking and project paperwork for assigned projects
Ensure all volunteer paperwork is completed and documented
Ensure paperwork is properly entered into databases and stored
Overall Responsibilities
Work as part of a small team to accomplish the mission of Rebuild Upstate
Keep supervisor informed of all activity, progress, and issues as they arise
Represent Rebuild Upstate in the community and to specific groups/associations
Participate in professional development as recommended and provided
Assist in creating funding partnerships with individuals, churches, businesses and other groups in the community
Other tasks as assigned
Qualifications
Construction/repair experience
Must be able to lift 50 pounds
Strong verbal and written communication skills
Ability to work and communicate well within a team
Capable of managing multiple projects at once
High School Diploma (higher education preferred)
Experience with excel, word, email (google suites preferred)
Volunteer management experience preferred
Experience pulling/backing trailers preferred
Project planning skills and budgeting skills preferred
Hours & Compensation
Forty hours per week for full-time; specific hours vary
Twenty hours per week for half-time; specific hours vary
Weekend work required based on volunteer availability
Flexible schedule
Please designate your desired hours (full-time or half-time) in the application.