Turn Your Passion For Service Into a
Career
If you're looking for a rewarding and impactful career, we might have just the place for you here at Rebuild Upstate. Our tight-knit team works together each day to bring life to our mission and foster strong, sustainable communities.
If you're a self-starter, thrive in a collaborative environment and enjoy solving problems, you're already off to a great start! Explore our open positions below to apply.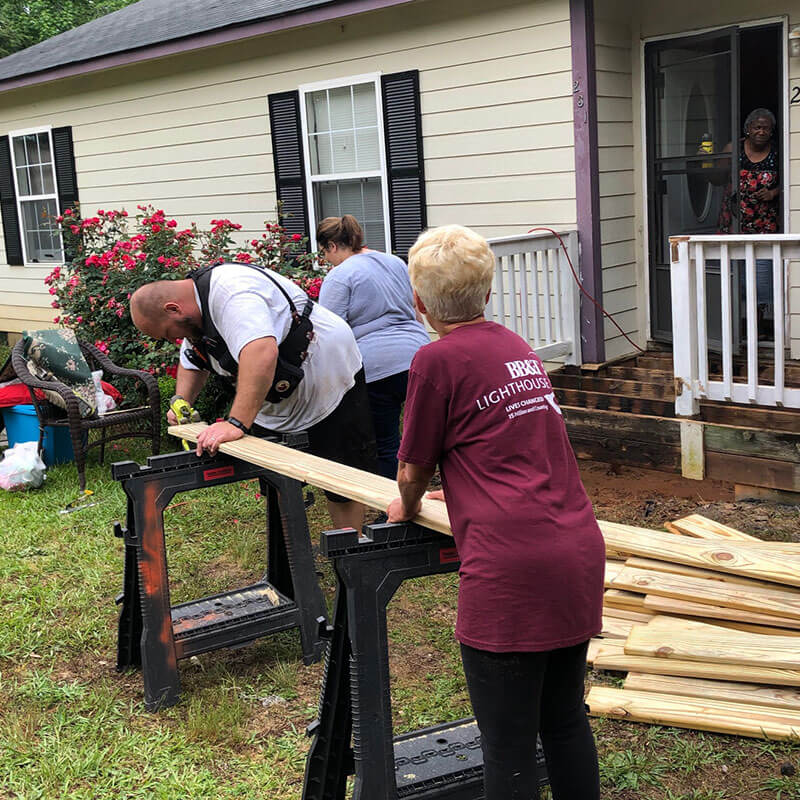 While there is not a position currently available, we continue to accept applications and will hold them for one year. Should a position become available, we will contact qualified applicants on file.
Position Title: Home Repair Program Coordinator
Status: Full-Time (40 hrs/week) or Half-Time (20 hrs/week)
Location: Greenville, SC
Salary: $31,000-$35,000/year, based on experience for full-time
Overall Nature and Scope of Position
Rebuild Upstate is hiring a self-motivated Home Repair Program Coordinator with experience in construction. This position reports to the Director of Operations. The successful candidate will work directly with clients to ensure that they qualify for available funding, will plan all projects to fall within the applicable guidelines and budget, and contribute to completing said projects. He or she will work with the Engagement Team and Director of Operations to ensure that all aspects of work are appropriately planned and staffed with volunteers, and will lead teams of volunteers in completing the work or complete the work themselves, as needed. When applicable, this individual will work with contractors to get bids and complete projects that are not suitable for volunteer labor. We are looking for a dedicated individual who will fit with our collaborative culture. The job requires some weekend hours and flexibility. If you would enjoy working with a small team of professionals to accomplish the mission of Rebuild Upstate, we encourage you to apply.
Mission
Rebuild Upstate repairs the houses of our low-income neighbors to make homes safer, healthier and more livable. We envision an Upstate where everyone has the opportunity to live a life of dignity in a safe home environment in order to maintain and foster strong, sustainable communities.
Project Management & Planning
Inspect clients homes and identify home repair needs
Plan how to complete necessary repairs, including takeoffs and task lists
Oversee purchase and ensure timely delivery of materials and trailers/tools to worksites
Oversee Worksite Safety and Volunteer Orientation
Physical labor is required, including cleaning up work sites, loading materials into truck or trailer, or completing projects as needed
Submit paperwork, as appropriate, to funding agencies
Volunteer Management
Coordinate with the engagement team on all volunteer issues
Facilitate completion of projects by leading groups of volunteers of varying ages and abilities
Documentation & Reporting
Manage homeowner tracking and project paperwork for assigned projects
Ensure all volunteer paperwork is completed and documented
Ensure paperwork is properly entered into databases and stored
Overall Responsibilities
Work as part of a small team to accomplish the mission of Rebuild Upstate
Keep supervisor informed of all activity, progress, and issues as they arise
Represent Rebuild Upstate in the community and to specific groups/associations
Participate in professional development as recommended and provided
Assist in creating funding partnerships with individuals, churches, businesses and other groups in the community
Other tasks as assigned
Qualifications
Construction/repair experience
Must be able to lift 50 pounds
Strong verbal and written communication skills
Ability to work and communicate well within a team
Capable of managing multiple projects at once
High School Diploma (higher education preferred)
Experience with excel, word, email (google suites preferred)
Volunteer management experience preferred
Experience pulling/backing trailers preferred
Project planning skills and budgeting skills preferred
Hours & Compensation
Forty hours per week for full-time; specific hours vary
Twenty hours per week for half-time; specific hours vary
Weekend work required based on volunteer availability
Flexible schedule
Please designate your desired hours (full-time or half-time) in the application.