Mission & Vision
Rebuild Upstate is a nonprofit organization that exists to repair the homes of our low-income neighbors to make homes safer, healthier, and more livable.

We envision an Upstate where everyone has the opportunity to live a life of dignity in a safe home environment in order to maintain and foster strong, sustainable communities.

We engage with community partners to provide funding and volunteer support for home repair. The idea is simple: if you protect the home, you protect the homeowner inside it. The best home for a homeowner at-risk in the affordable housing crisis is the home they already own.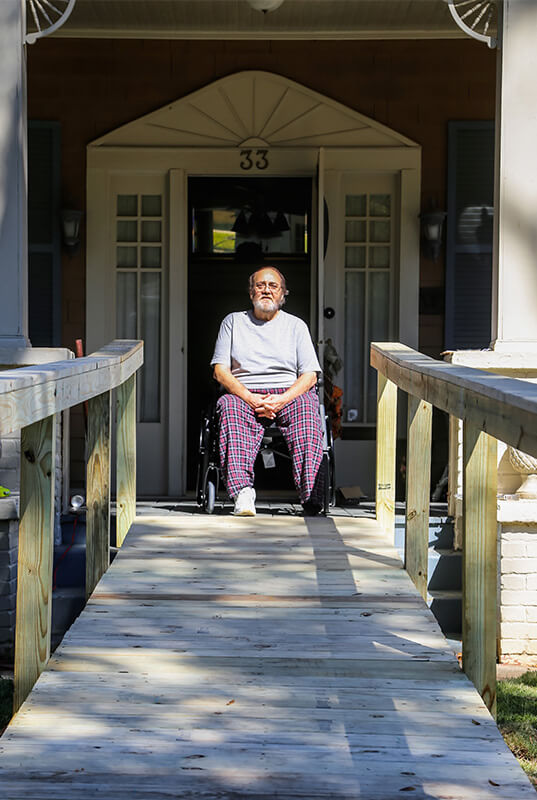 Max Heller Neighborhood Improvement Award, Greenville Chamber of Commerce, 2019
The Max Heller Neighborhood Improvement Award is given annually to an organization that has shown exemplary efforts toward neighborhood improvement and empowerment. The award is named in honor of former Greenville Mayor Max Heller, who spearheaded numerous efforts over the years to improve the quality of life for all citizens of Greenville County.

Dan Rawls Community Service Award, Home Builders Association of Greenville, 2019
The Home Builders Association of Greenville's Dan Rawls Community Service Award is given to organizations that exhibit professionalism and make significant contributions to the home building industry in the Upstate.

Guidestar Platinum Seal of Transparency, GuideStar.org, 2018, 2019, 2020, 2021
This award is the highest level of recognition that GuideStar gives to nonprofit organizations. Rebuild Upstate earned this award two years in a row for its financial transparency.

Best Practice in Volunteer Stewardship, ReFrame Association, 2018, 2020
Rebuild Upstate was recognized for its dedication to ensuring that volunteers have a great experience.

Fred R. Shaheen Award, Together SC, 2018
Rebuild Upstate's founder and President/CEO, Chris Manley, was presented this award for excellence in nonprofit leadership. This award is presented by Francis Marion University and Together SC (formerly SCANPO) in memory of the late Fred R. Shaheen, a statewide leader in nonprofit excellence and leader of Francis Marion University's nonprofit education program.

Best Practice Award in Community Partnership, ReFrame Association, 2016
Rebuild Upstate was recognized for its partnership with the City of Greenville to manage its entire home repair/home rehab program.

Passion
We are passionate about low-income neighbors having safer, healthier, and more affordable homes. This passion extends to the spirit in which we work, the fervor we have for our mission, and the dedication we have to making our vision a reality.

Serve Joyfully
Providing dignity and joy to a homeowner is one of the most important things we do. When we serve others and alongside others, we serve joyfully. When we serve joyfully, we get the opportunity to share our joy with each homeowner.

Be Safe
Just as we repair homes to be safer, we must do so in environments where we keep our volunteers, staff, and homeowners safe. Our staff and volunteers prioritize safety of themselves, others, and most importantly, the individuals living in the home.

Community Perspective
We're part of the solution to making sure our community's affordable housing needs are
met – but we are not the only solution. We must maintain a spirit of collaboration and working together with others to improve our overall community. By working with others, we can be sure our community's needs are being met in a holistic way.

Be Bold
Being bold isn't about being the biggest or loudest. Being Bold is leaning in to the problems and advocating for our cause. We're willing to take the necessary steps, even when they're not popular or conventional. We're willing to challenge ourselves and our community to tackle big issues. With our vision and passion driving us, we are confident in our actions.
Where We Started
Our Origin Story
Originally called Tigers Go, Rebuild Upstate began in August 2006 when founder Chris Manley and other Clemson University students saw a need to continue disaster relief and rebuilding work in the New Orleans metro area post-Katrina. For the next year, hundreds of Clemson students and community members traveled to New Orleans to clean, repair, and rebuild.
By the start of 2007, word had spread that there were a lot of locals willing to help those in need. A request came in to repair a home in the Clemson area and, in January 2007, what is now Rebuild Upstate was born and formally incorporated the following month. While the full extent of the need wasn't understood at the time, thousands of families living in the Upstate of South Carolina were living in unsafe and unhealthy home conditions.
In the ensuing years, Rebuild Upstate transitioned its work in Louisiana to other local nonprofits and by 2011 was serving exclusively in Upstate SC. Since that first local home repaired in 2007, Rebuild Upstate has repaired over 900 homes in Anderson, Greenville, Oconee, and Pickens Counties of SC, with the hard work and dedication of over 7,000 volunteers.