Meet Mrs. E
Joy. That's the word I would use to describe Mrs. E. She radiates kindness and compassion, immediately welcoming me into her home. A grandmother to 13 and a great-grandmother to 4, Mrs. E could put anyone at ease. She enjoys the simple pleasures of life: watching game shows, chatting with others, and avoiding telemarketers at all costs.
Mrs. E has been in her home for 40 years, almost all she shared with her husband. Mrs. E met her husband on the 4th of July in Greenville, the two were married for 60 years. They were a team, inseparable, and did everything together. He always wanted to make sure she was taken care of.
To Mrs. E, home is her happy place, it's where her family can be together. After the passing of her husband last year, what once was her safe haven became a financial concern. Mrs. E was left with a lot of unfinished work on her house and was ineligible for insurance assistance. She has been unable to make the needed repairs and was concerned she would not be able to keep her home. Mrs. E was on Rebuild Upstate's waiting list for 2 years, but she never gave up hope. When the volunteers showed up on the build day, Mrs. E says it was an answered prayer and the biggest blessing.
Mrs. E was overflowing with gratitude for the work performed by Furman Community Conservation Corps volunteers and the Rebuild Upstate Handyman Club. She was adamant that each volunteer know how appreciative she is for everything that they did for her. She was amazed at how motivated and willing the volunteers were to be there. Mrs. E could not say enough about how much she thoroughly enjoyed their company and wanted to make sure each volunteer felt welcome. Without the repairs Furman volunteers and the Handyman Club performed, she would not be able to live in her home.
The repairs have lifted a weight off Mrs. E's shoulders and given her an optimistic outlook for what's to come. When looking toward the future, Mrs. E made it very clear that she was NOT looking for a husband. She is excited to get more involved in her church, community center, and pick up a few hobbies.
Before leaving Mrs. E gave me some very wise life advice, keep up what you do, like what you do, and be good to people.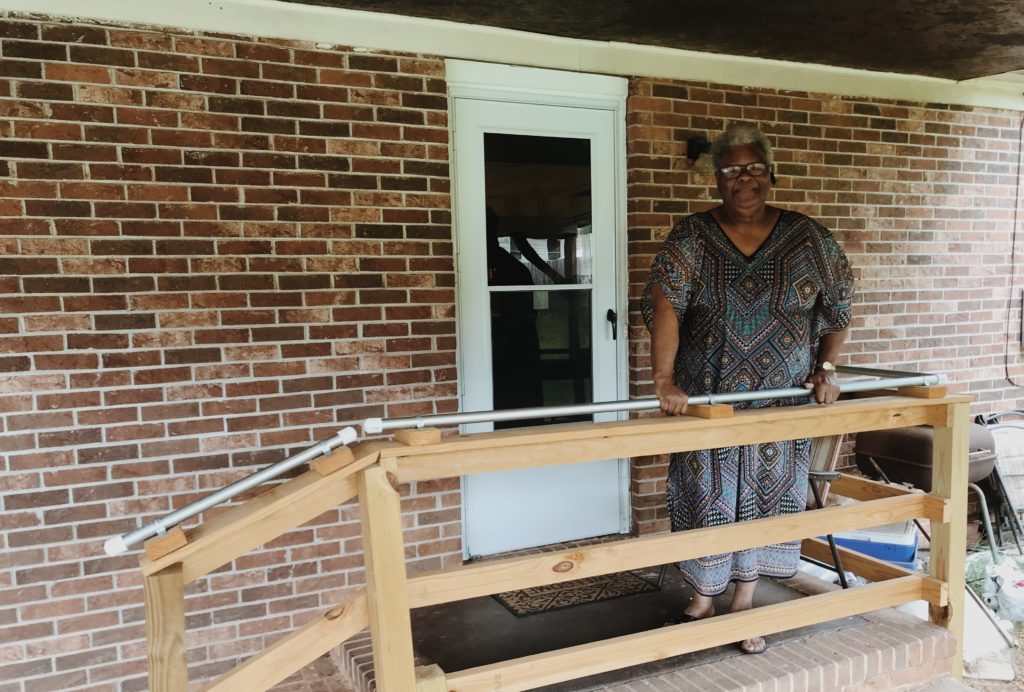 Volunteer or Donate to support home repairs for homeowners like Mrs. E.