Group Volunteer Opportunities
A Team Building Experience Like No Other
Group volunteers at Rebuild come in all types and sizes. We've welcomed church groups, community groups, groups of friends, and businesses both small and large. Group volunteers don't need to have any special training, just the ability to lift some lumber and work outside!
We call our group volunteer days "build days" because you'll be doing just that—getting your hands dirty while working on a home improvement project for a neighbor. At the end of the day, you'll see the fruits of your labor: a finished project that fills a need immediately. You'll witness firsthand the impact you're having on a homeowner's life.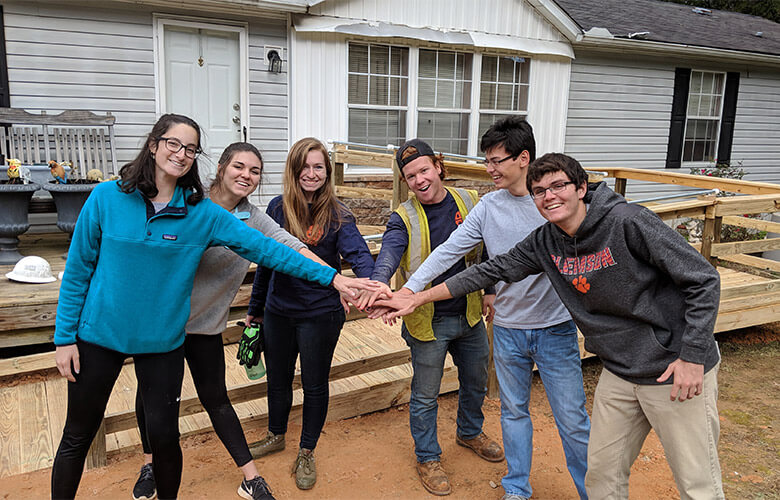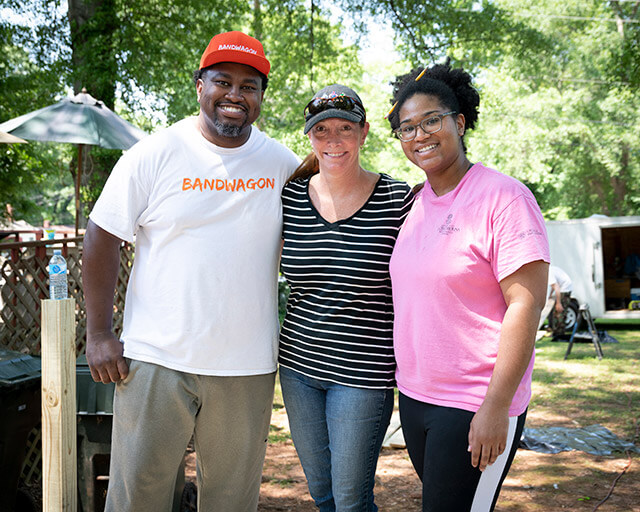 Additional Details & Requirements
Explore the group requirements, process, and additional information to learn more about our group volunteer opportunities during the COVID-19 pandemic. When you're ready, reach out to our team to discuss opportunities to serve your neighbor!
An ideal group size is 7-10 individuals. If you've got more, we'll typically split the build into two shifts of two groups. This allows each person to stay busy and engaged all day.
All ages are welcome on-site, as long as the team arranges for appropriate adult supervision. We really mean it when we say that our group volunteers don't need to have any previous building experience! We'll work with you to find a project that meets your group's skill level. We'll also provide the materials, tools, safety equipment, and a trained Site Leader to lead your project.
Are any members of your team 55 or older? Each volunteer age 55+ can earn us $1,000 for volunteering in Anderson County through the RSVP SeniorCorps grant. Mention the RSVP grant in your inquiry to learn more. Gas re-imbursement and gift cards provided to eligible volunteers.
Step One: Contact Rebuild Upstate
A volunteer group coordinator contacts Rebuild Upstate to choose a project date and indicate which community they'd like to serve. Build days can be scheduled for any day of the week, including Saturdays. The Rebuild Upstate team member will ask additional questions to determine if there are opportunities available for your team. We recommend reaching out 8+ weeks ahead of time.
Step Two: Finalize a Date
Once a project date is finalized, the group coordinator recruits 7-10 coworkers, friends, or church members to participate in the Build Day.
Step Three: Prepare Your Group
In the days leading up to the Build Day, Rebuild Upstate will communicate specifics about the build day to the group coordinator. This will include project specifics, information about the homeowner you'll be helping, what to wear, where to park, and any other special considerations.
The group coordinator will communicate with their team members regarding COVID-19 safety.
Step Four: Show Up Ready to Build!
The volunteer group attends the Build Day and repairs a home for a neighbor in need.
Most of our group projects are one-day projects (7-9 hours on-site), indoors or outdoors. These may include:
Wheelchair ramp builds
Accessibility repairs, such as a porch or deck
Vinyl or cement siding replacement
Window replacement
Our volunteer groups can also help with roof repair or replacement. This type of project is ideal for a group that's looking for a multi-day project (usually 2-3 days).
A Day in the Life on Site
What to Expect on Your Build Day
Arrival & Orientation
Group volunteers arrive to the worksite between 8:00-8:30 am and are greeted by their Site Leader. The Site Leader takes you through a brief orientation:
Check-in and safety talk
Overview of project and plan for completion
Tour of the tool shed and introduction to the equipment needed for the day
Assigning tasks
Build Time
Once assigned tasks, volunteers start work on the project. This typically looks like:
3-4 volunteers for framing
2-3 volunteers for cutting boards
2-3 volunteers for laying deck boards
Since build days are an all day event, lunch breaks are scheduled in for about 12pm. Each group is responsible for providing their own lunch
After the project is complete, volunteers clean up the worksite, pack up the toolshed and head home. Often the homeowners will come out to view the completed work and thank the team.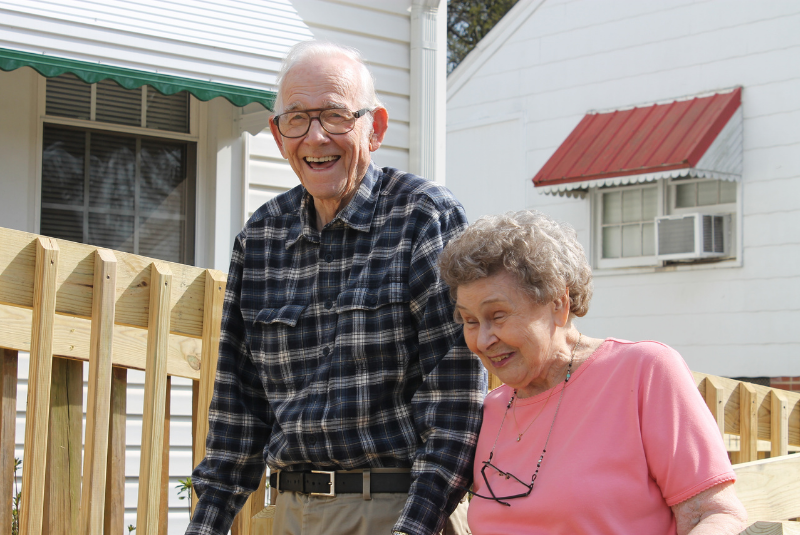 RSVP Volunteers earn $1,000 for our program
We have an urgent need for volunteers age 55+ to serve in Anderson County. Made possible by the RSVP SeniorCorps grant, eligible volunteers can earn our program $1,000 for volunteering. Learn more about the program here.
Anyone age 55 or older who volunteers in Anderson County is eligible. 
County of residency does not affect your eligibility.
No. If one volunteer in your group is 55+ and you repair a home in Anderson County, that volunteer can help. In a mixed age group, only volunteers 55+ are eligible for gas reimbursement and a lunch gift card.
Scheduling a build day doesn't look any different from our standard build day. 
Let us know your team is interested in serving in Anderson County and we'll take it from there. There may be some minor additional administrative work so we can process mileage reimbursement and lunch gift cards.
Not sure if this is right for your group?
Let's talk and find the best ways to use your strengths to serve the Upstate.