Time Well Spent: The Gaines Family
Sixty-two years. That's how long James (84) and Charlena (83) have been married. Twenty-one years were spent in the home where they raised six children, where they live today.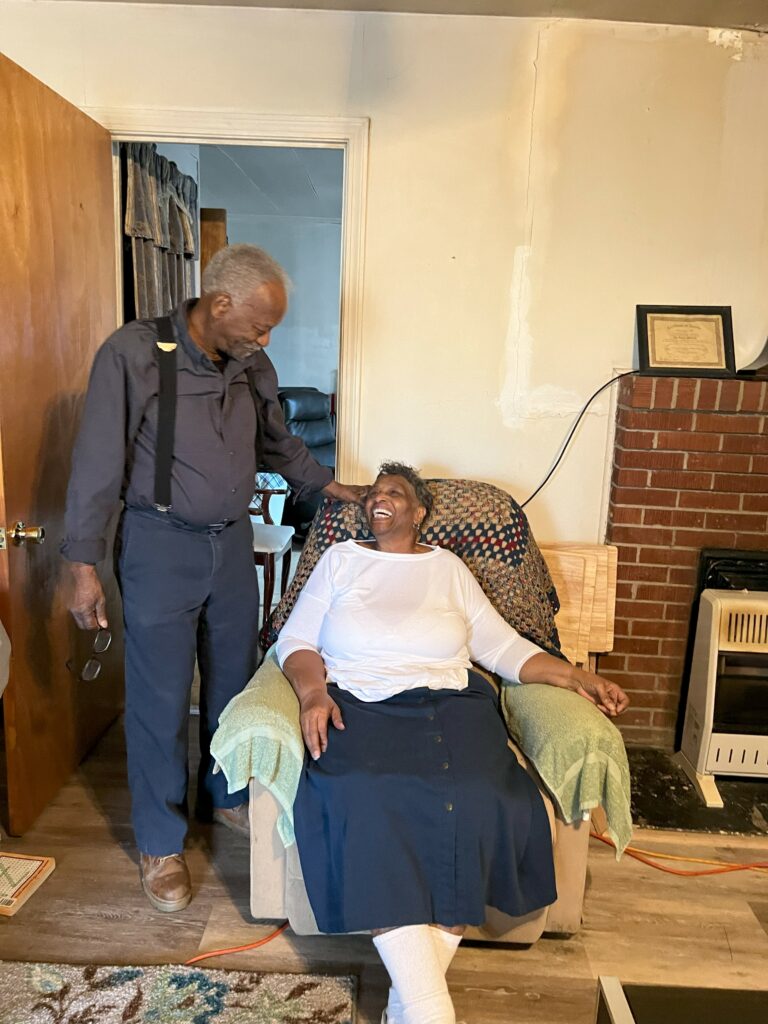 James had a nearly 30-year career in the textile industry. He still hasn't entirely retired. James works part-time at their church doing maintenance. At home, he enjoys spending time in his garden. Charlena retired from South Carolina's Child Protective Services, where she ensured the safety and well-being of hundreds of children for 28 years.
Time is valuable to the Gaines family, evidenced by the fun collection of clocks they've gathered over the years. Unfortunately, timing also became critical to their safety with a leaking roof. 
A leak around the chimney and along one exterior wall had caused significant water damage to the walls, floor, and ceiling on the right side of the home. The living room floor was sinking. James and Charlena risked falling through the floor when they entered the room. Worried about their safety, their granddaughter-in-law contacted Rebuild Upstate for assistance.
In October 2022, volunteers from Lutheran Campus Ministry, Clemson RUF, and Rebuild Upstate's Handyman Club worked separately to remove damaged windows and siding on the right side of the home. They repaired the rotten studs and rim joists. Volunteers removed and replaced the subfloor and floor joists in the living room and installed new floor covering. Volunteers also added a new handrail with a grab bar to the front porch.
One major repair remained – the roof. Several factors, including location and income, prevented James and Charlena from qualifying for funding to repair the roof, which was the root cause of all their home's issues. Without repairs, water would continue to leak into the house.
Enter roofing and gutter company Sentry Construction. Sentry Construction owner Jonathan Dugger first connected with a Rebuild Upstate through a local networking organization. He expressed interest in donating a roof. Within days, Sentry Construction had a team deployed to James and Charlena's home to replace the roof at no cost to Rebuild Upstate or the homeowners – a $6,000 value. 
Sentry Construction prides itself on integrity, workmanship, and reputation in the market. They are a family and veteran-owned business. Owner Jonathan Dugger is a former active-duty Marine. He served two tours in Iraq from 2005-2009 and named his company using the military term "sentry," which is a soldier standing guard (Merriam Webster).

Jonathan says: "It's rewarding to help someone remain living in their home with dignity for years to come. A safe home is an essential need. You can't rest well nor be productive if your house is falling apart around you."
After repairs, James and Charlena feel safer and like their prayers have been answered. Charlena says: "Give God the glory. Give the praise for what He has allowed to happen to us. Because if it hadn't been for him, all this wouldn't have happened." 
If you are a general contractor in the Upstate, your donated services could help a family like James and Charlena. Many people are waiting to feel safe again. Start a conversation with Rosey ([email protected]) if you want to give back today. 
May is Older Adults Month. More than half of the homeowners served by Rebuild Upstate are 60+ years old, just like James and Charlena. Adding grab bars to a bathtub, replacing rotten porch steps with a sturdy ramp, or even installing a walk-in shower are all repairs that help older adults age with dignity. Not all older adults who need our help will qualify for our traditional funding. Your donation allows Rebuild Upstate to reach homeowners who need repairs faster.