Board Member Q&A with Lora Jex
Meet Lora Jex!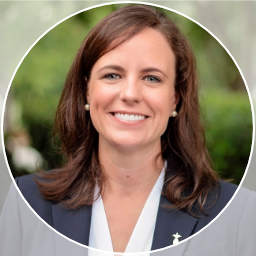 Lora joins our 2023 board class as a first-term board member. Her relevant industry experience and relationships are an asset to our board of directors. Lora currently works as Chief Compliance Officer, EVP for Southern First Bank.
Lora completed a Q&A to share why she's passionate about home preservation.
Q&A with Lora Jex, Rebuild Upstate Board Member
How did you hear about Rebuild Upstate?
I was researching opportunities within the Greenville market for volunteer opportunities for my team and came across Rebuild Upstate and the opportunity for a build day. We gathered individuals from other departments within the bank, created a full team, and completed a worksite day through Rebuild. The more I learned about Rebuild from Rosey, the more I loved the organization and its mission, and I was fortunate to join the Advisory Committee.
What made you decide to get more involved with Rebuild Upstate?
The mission of Rebuild. The majority, if not all, of homeowners would prefer to stay in their home and age in place. I think most of us have had family members or have known other community members throughout our lives who could have benefitted from an organization like Rebuild, and it naturally drew me in. The organization's mission and my passion for helping those that are less fortunate seemed like a great alignment.
What is your goal as a board member?
I would love to see the number of homes and impacted individuals continue to increase year over year – to the point there is a very short waiting list. I hope to assist in fundraising and strategy planning to assist in growing the organization and expanding to new locations.  I will continue to spread the word and Rebuild's mission amongst my personal and professional network and advocate for the individuals in need within our community.
What difference have you seen Rebuild Upstate make in the lives of others?
During the build day, we built a wheelchair ramp for a retired police officer. He had mobility issues, and it was difficult for him to get in and out of his home. His wife had to maneuver him onto the front porch and use a very unsafe, handmade ramp to get him near the car. The ramp and modifications to the door/porch, made it easier for him to leave the house and attend doctor appointments, church, and other activities he enjoyed. Outside of my personal experience during the build day, I love seeing the posts on social media highlighting Rebuild's assistance to veterans, responders, teachers, etc. It's a wonderful thing to see our community assisting previous community helpers, especially when the helpers are now in need.
What is it like being on a Rebuild Upstate build day?
When we arrived on site, there was a little anxiety about the project itself – especially those of us without strong construction skills. It was a beautiful morning, and our team enjoyed coffee and donuts together while listening to the tasks ahead from our Rebuild leader. We were tasked with building a wheelchair ramp. The day ended up being scorching hot, and there was a lot of concrete to bust through, which proved to be quite difficult. It was a humbling experience and a stark reminder of the struggles that some individuals go through as they age or live on a fixed income. After years of working and maintaining a home, you can truly understand the frustration and heartbreak of being unable to age in place due to health concerns or the deterioration of a home you worked hard to maintain for years. It's a humbling experience. It reminds you to be grateful for what you have. It also brings you peace, that through your efforts, one homeowner could sleep a little easier that night. The team I put together was from Southern First Bank, and our company's mission is to Impact Lives within the community. The build day allowed us to impact lives as a team, provided us the ability to get to know one another outside of work, and it was also fun! So much so, that we've already completed a second build day.  
Tell us a little about you. 
My husband Andy and I have been married for 16 years, we have two kids – my daughter Kate who is 12, and my son Ryan who is 8. We also have two dogs, a cat, and a rabbit.  I love to read, and I love being around people, I'm a social person. I was born in Greenville but only lived here until I was 2. From there, I grew up in Clayton, GA and after college I moved around the Southeast including Birmingham, AL, Atlanta, GA, Savannah, GA, and Columbia, SC. We moved to Greenville in 2020 and have no plans of moving again! 
What other community organizations or initiatives are you involved in?
I'm currently involved with Communities in Schools and serve on the advisory committee in the Greenville market. I've participated in Hands on Greenville, Trees Upstate, and other volunteer initiatives throughout the community. We moved to Greenville in the height of COVID, so it's taken us a little longer to get fully immersed due to restrictions, etc. As a result, we've continued virtual involvement with our church in Lexington, SC – Mt. Horeb, but are in the process of finding a local church home. 
What else do you want the Rebuild Upstate extended family to know about you?
I'm thrilled to be part of Rebuild and I'm excited to meet others in the community with similar interests and passions. 
Thank you for your volunteerism, Lora! Let's get to work!